Master & Dynamic MW07 Go Wireless Headphones Review
Excellent sound quality
nice design
Master & Dynamic have been producing some of the best headphones of the past few years, offering stylish designs, great sound quality, and more. The MW07 wireless headphones in particular were some of the best wireless headphones, but at $300, they're not necessarily cheap. Now the company is back with another pair - the new Master & Dynamic MW07 marching headphones that aim to offer the best of MW07s in a more affordable package.
Along with the MW07 plus headphones, these headphones complete the MW07 lineup. But they are worth buying, or there are too many sacrifices to bring down the price. We've been testing the Master & Dynamic MW07 Go Headphones for a while now to find out.
Design
The original Master & Dynamic MW07 earphones offered quite a stylish design, and this is carried over to the MW07 earphones too. The headphones may not have the same fancy colors as the originals, but they still offer the same shape, color, placement, and so on. The headphones are available in several different colors including blue, red, gray and black. They all look good, but we are revisiting the black model.
As mentioned, the overall shape of the headphones is the same as previous iterations of the MW07 headphones, offering an angled cap, a single button on the right bud, and a volume rocker on the left. That said, they are slightly smaller than the standard MW07 headphones, which are nice to see and make them easier to carry around.
The case is slightly different from previous versions too, although we almost like this case more. Nice fabric cover looks great, just like other versions of the headphones, there is a USB-C connector on the back. You'll also be able to get a USB-C charging cable, a USB-C to USB adapter, and a range of attachments and fit wings to ensure a good fit.
Generally speaking, Master & Dynamic has done a great job of making the headphones look even better. They still look and feel premium, premium accessories, and so on.
Comfort
While some true wireless headphones can fall out a lot, they manage to stay firmly in your ears - thanks to the fact that they come with a few different fit wings, the rest is in the outer ear. It's a pretty smart setup, and puts these headphones ahead of many other categories.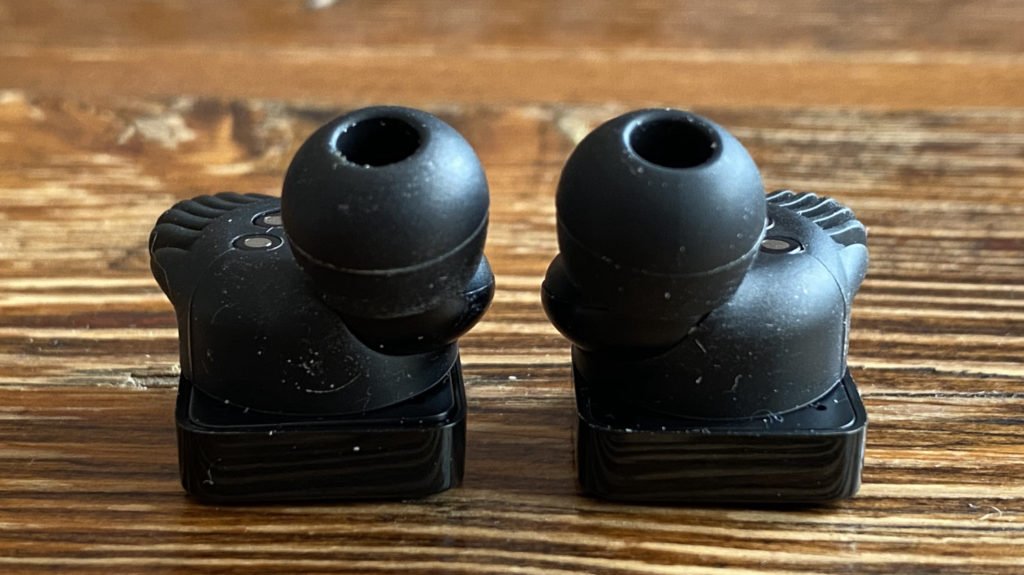 The headphones are also not overly heavy, which will help. In fact, they are slightly smaller and lighter than the original headphones. Of course, like any in-ear headphones you will need to get used to them - but generally speaking, we were able to wear the headphones for at least a few hours without much discomfort.
Sound
Master & Dynamic headphones always sound great and these headphones are no exception to that rule. The sound is rich, soft, and well-tuned, which is a seriously enjoyable listening experience.
For starters, the bass is deep and powerful, allowing the kicks to easily punch through the mix and the basses to offer a solid foundation for any song. The bass, of course, isn't necessarily as deep as you'd get on a pair of high-end headphones, but its great for a pair of in-ear headphones.
The midrange is well tuned too. The low-mids are warm without getting muddy, while the high-mids, despite seemingly getting the slightest cut, are still more than enough real to bring vocals and guitars to the fore.
Surprise - high-end sounds too good. The headphones provide excellent clarity and detail, especially for a pair of true wireless headphones in this price range.
So I can not do these headphones? Well, the bottom line is that unlike the $100-more-more-expensive MW07 plus headphones, they don't offer noise cancellation. Many, however, do not need this feature - and these people need to be sure that they are still getting amazing-sounding headphones.
Performance
Master & Dynamic MW07 go headphones work very well and are much better than the original MW07s. The headphones connect to a device to listen to music via Bluetooth 5.0, and we found that they maintained good connectivity throughout the testing process.
When it comes to battery life, the buds themselves offer a hefty 10 hours, while charging will give you an extra 12 hours. We've really passed the point of true wireless headphones running out of power in one sitting - if you've been listening to headphones for 10 hours, it's probably time to give your ears a break anyway. 10 hours is the high end of battery life for true wireless headphones.
Conclusions
Master & Dynamic MW07 go earphones seriously different for the company. The headphones provide great sound-quality, nice design and high battery life, making them easily some of the best wireless headphones on the market.
But are they the best in their price range? Well, it really depends on what you are looking for. Unfortunately for almost all true wireless headphone makers, Apple has seriously stepped up their game with the new AirPods Pro headphones - thought they were a bit more expensive, at $250. If you're an Apple user who loves connectivity to Apple devices and doesn't mind spending a little extra money, an extra month might be worth it.
For everyone else, however, this is absolutely the right way. If you don't use an Apple device, or don't want to spend the extra $50, then you're getting a great product in the Master & Dynamic MW07 go - and that's why we awarded them a gold-medal headphone review.
Post Master & Dynamic MW07 Go Wireless Headphones Review first appeared on Headphones Commentary.