Car owners usually spend a lot of time behind the wheel. If the car radio is already old, then it sounds bad, does not have enough options. So why not give yourself and your car a gift - choose a new radio with good sound quality. And to select such equipment, you need to decide on the models and their characteristics.
What to look for when choosing a car radio
I'm thinking about which radio to choose for my car, I need to decide on a number of parameters:
1-DIN and 2-DIN. They affect the dimensions of the radio - height latitude. In the first one, they are, respectively, 50 and 178 mm, and in the second, the width is 2 times greater. A 1-din device can be placed in a large socket using an adapter frame, but vice versa will not work;
screen. For simpler models, it is monochrome or LED. This is quite enough to manage the settings, enable playback. For more expensive models, which usually have a 2-din format, the screen is already liquid crystal, and it can even be touch-sensitive;
output power. For conventional models, the indicator usually varies from 30 to 60 watts. This is quite enough for a passenger car. But for connoisseurs, there are special amplifiers;
interface. Car radios have long turned into multimedia-type digital gadgets that can handle playback from different devices and have several connectors for this. Most often, ports for flash cards are now used. Also, some models have the ability to connect wirelessly via bluetooth. But disk connectors are now a rarity;
radio. Even in the most inexpensive models, it can easily be found. However, the device is also different. For example, the analog version with manual station tuning is already considered obsolete. And this is true: it is completely inconvenient to turn the handle on your own when driving a vehicle. But now digital tuners quickly catch waves, remember them.
These are the main parameters that you need to pay attention to when choosing a high-quality radio.
Top 8 car radios: popular models and their features
Below is an overview of car radios, which are considered the best in terms of price, technical and operational characteristics. These are the best options.
Pioneer SPH-10BT
If we consider the top car radios, then we cannot help but remember this model - it is the best by 1 DIN. Sharpened to work with a mobile phone through a proprietary application. The smartphone is fixed with an appropriate clip, so that it will play the role of a full-fledged monitor. But the radio's own screen is small, monochrome. This thing is a profitable option due to the presence of a microphone, a digital tuner.
KENWOOD KMM-304Y
Inexpensive, but high-quality model. The screen is monochrome with multicolor backlight. Can play music from flash drives. Digital tuner included. The manufacturer directed all his efforts to make high-quality sound. There are various filters, sound options, an equalizer for 13 bands.
Sony DSX-A210UI
Considering the top radio tape recorders, one cannot fail to indicate this manufacturer, which is extremely famous. He released a budget model for 1 din, but at the same time made this inexpensive device much better than it costs. The set of settings is modest, but the sound is beyond praise. Equalizer for 3 bands.
Pioneer FH-X380UB
If we consider the best 2 DIN car radios, then you should pay attention to this model. It differs from the previous ones in that it has not only a USB port, but also a CD player. The screen is monochrome. Output power 50 watts. It is possible to synchronize the device with a mobile device on the Android operating system. But oddly enough, the same cannot be done with the iPhone.
Pioneer MVH-A100V
This model is already more expensive than the previous ones, but there are more possibilities. The screen here is already full-color, touch. The diagonal is 6,2 inches. The device can handle formats such as MP3, WMA and AAC. It also displays video in MPEG4, DivX, and AVI, pictures in JPEG.
SWAT WX-218UBW
This is a good radio in the car, which has gained popularity due to the number of connectors located on the front panel. For flash cards, 2 pieces are provided, and one can be used specifically for playing music, and the second connector as a charger for mobile devices (voltage 5 volts). Also in the car radio there is a slot for SD cards and 3,5 mm AUX. The monitor is bright, color and liquid crystal. It is even convenient to watch movies on it. The radio can still be used as a headset, as a microphone is provided. The sound is also at a high level, clean, but connoisseurs indicate in the reviews that they do not have enough settings.
Pioneer DEH-S5000BT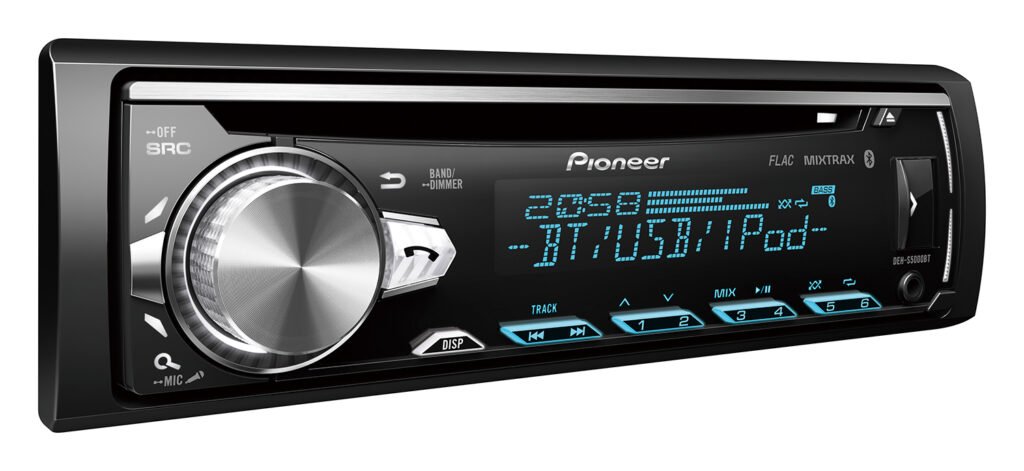 Considering the best car radios, you should pay attention to this model. It is considered one of the most popular due to its powerful sound processor. It has a completely simple appearance that does not attract attention. But behind it is a 13-band equalizer, a large number of outputs, a variety of options for adjusting the sound. The sound itself will be clear, rich, powerful. You can synchronize your device with your phone using a special application. Everything is done via bluetooth, so you don't have to use cables. The audio system itself can be used as a headset. This is a great machine and definitely worth the money spent.
FarCar S170 L819 2DIN Universal Android (L819)
Considering the best models of car radio based on Android, you should pay attention to this particular device. Belongs to the category 2-din in size. The panel has a diagonal of 7 inches. Monitor touch. In general, this audio system can easily be used as a regular tablet, but only the device is built into the car. The processor for 4 cores is responsible for the operation and functionality of the equipment.