The future is only now with useful 3D printers that are more affordable and demanding than ever before. Whether for professional, personal, or educational use, 3D printers are more affordable and as easy as pressing a button. Not only can you use 3D printers to produce flawless products, but you can also create replacement parts for any plan from the comfort of your home, office, or workshop. Now that 3D printing technology is available to almost everyone, you don't need to be an expert to try it out.
Well, there's a lot more information out there about all the different 3D printers featured today, so to help you choose the best 3D printer, we've rounded up the hottest and best options in one stop. Focus and read carefully to understand which one can meet your requirements. Take a look!
What is 3D printing? And how does it work?
Before learning about the best 3D printers, we must learn the basics of 3D printing and they work. So! Simply put, 3D printing is a method of making durable XNUMXD objects from a digital file. This method is also known as additive manufacturing.
The invention of 3D printed objects is achieved through additive procedures. In this type of process, an object is built by layering successive layers of matter until the object is created. Each layer can be thought of as a thinly divided cross section of an object.
In other words, 3D printing is the opposite of subtractive manufacturing, which involves cutting or gouging a piece of metal or plastic, such as on a milling machine.
3D printing allows complex patterns to be created using fewer materials than formal production methods. There are several different software tools that can help you with 3D printing. From industrial grade to open source. Below we have listed the best with a full review. Scroll down and find out more!
Review of the most reliable 3D printers
CEL-UK RoboxPro
Ultimaker S3
Original PRUSA SL1
FormLabs Form 3
TRILAB DeltiQ2
Snap maker 2.0 A350
Original PRUSA i3 Ms3s
CEL-UK RoboxDual
Raise3D E2
Ready to plunge into the flow of knowledge? If yes, then brace yourself because we are going to break down the above names to help you navigate the best ones according to your choice and needs. In order to make a detailed order of the correct data, we have described the functions, operation and advantages of each printer. So stay tuned and read till the end!
CEL-UK RoboxPro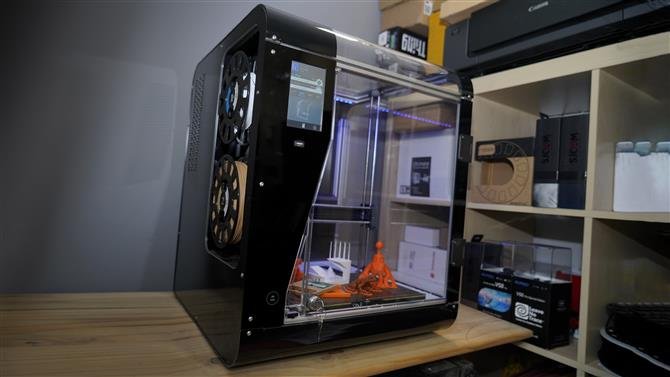 And here is the leader in the creation of 3D printers! CEL-UK offers several interesting features with original printing technique, opening up the world of FDM 3D printers. This tool is a large scale Robox with a set of items that looks like a 3D printed wishlist; auto, bed leveling, Wi-Fi, automatic filament leveling, network printing and common interchangeable tools.
The main task of the machine is to focus on quality and reliability. Everyone needs a printer that can recognize product concepts and bring them to market. The included technique makes it ideal for commercial and educational use.
pros :
● Changeable print directions
● Superior quality.
● Efficient and smart
● The operation methods are quite simple.
● Network Ready
Cons:
● Large printer
Ultimaker S3
This is another best and popular printer that ranks second on the list of the best! Ultimaker has been one of the hottest 3D printer manufacturers ever since the technology went mainstream. The S3 is a next generation printer built on speed, quality and reliability. While the look and feel of the engine is indeed a small nod to Ultimaker's open source organizations, it breaks new ground when it comes to usability and business reputation. S3 is designed for educational and in-demand items and requires a large selection of fixtures and materials to meet any designer's needs. Beauty features include cartridge replacement hotends, CURA Slicer software and a market-leading touch screen interface.
Pros:
● First-class print quality.
● Easy to browse.
● Modern and versatile
● Fast and brilliant.
Cons :
● Expensive
Original PRUSA SL1
Prusa has changed the FDM 3D printer market and SL1 reviews are set to do the same for SLA printers. At the time stereolithography systems are used in the printer, a minor variant known as MSLA is evident. It consumes an LCD and a UV LED to reveal the wax/polish and is much cheaper than the high precision lasers recognized in the likes of the Form 3. While the item parts may be inexpensive, the outputs will be great and with the help of the outstanding PrusaSlicer software and great community of open source software developers, SL1 should change the rules of the game in the SLA market. In short, PRUSA is a high end printer that packs big materials and runs great!
Pros:
● HD print quality.
● Large material accord
Cons:
● SLA prints other than cleaning
Form Labs Form 3
FormLabs is a resin based SLA 3D printer focused on high quality printing. It played an important role in the discovery and development of technology. The Form 3 is the tiniest of their engines, but has a deep allure thanks to the use of a high-precision laser that delivers excellent print quality, surpassing FDM printers. As with all SLA printers, it uses liquid wax, not solid filament, so it takes more time to test and finish prints that are not suitable for all users. However, the volume of materials and technology makes the Form 3 one of the most flexible 3D printers on the market. Great for high quality jewelry, prototype casting and manufacturing.
Pros:
● Superior quality
● User friendly
● Versatility
● Contains a lot of material.
Cons:
● SLA cleanup required.
TriLab Delta Q2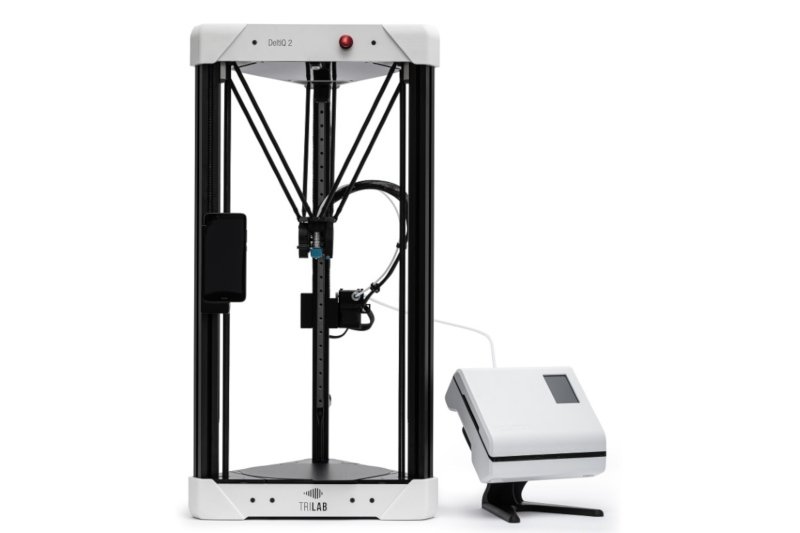 This is one of the most powerful and efficient 3D printers available today! Delta printers are different from conventional Cartesian 3D printers because the print head is attached to three full voice arms. The strategy implies that the print of the engines may be more recent and, since the roots are fixed, complex models. This may be a printer with limited supplies. The focus of DeltiQ 2 is the E3D hotspot, mobile control panel, Duet 2 Wi-Fi control card and excellent print quality. So, this is a stylish printer with quality work.
Pros:
● Reduction of advanced technologies
● Adaptable and expandable
Cons:
● Complex system

Snap Maker 2.0 A350
When you have a 3-in-1 printer, it's amazing! Snap Maker is a cool and smart 3-in-1 printer that includes 3D printing, CNC and laser cutters. All of them use universal traditional techniques and technologies. The modern snap maker has a dedicated following, so it's no surprise that the Snap maker A350 creates value and features in its prototype. This printer meets three standards and is suitable for any job. Switching between the three heads and the base takes little time to reconfigure functions.
Pros:
● 3-in-1 printer (3D printer, CNC and laser cutter)
● Durable design.
Cons:
● Switching between uses takes time.
Original PRUSA i3 Mk3s
This is another high quality machine that is best for 3D printing! PRUSA i3 is a powerful force in the 3D printing community with MK3s as their flagship engine. Can be used as a kit, professional uniform or as a plan pack to create your own, there are tons of appeals for every level of user. Professional build improves upon everything that has come before and is today widely recognized as the best FDM 3D printer on the market. Best of all, print speeds are fast, using the latest Trinamic2130 drivers and a Noctua fan, and this unit is as quiet as you can buy. Strong enhancements such as fiber sensors and Bondtech extruders. In addition, the PINDA 2 sensor and the market-leading E3D V6 nozzle confirm that print quality is hard to beat. The detail and quality of the print makes the Prusa MK3s the best all-round printer to use.
Pros:
● Fast paced printing
● Best print quality on the market.
Cons
● Clear cover design.
CEL UK Robox Dual
If you are looking for automotive software then this CEL-UK Dual could be your best friend! Some manufacturers have focused as much attention on the mission of 3D printing as CEL-UK. From perfect software that makes it easy to organize and manage your prints, to outstanding printer features and attachments that aid in repetitive design and output. RoboxDual has been specifically designed to fit any class of user. Headband replacement gadget head, SmartReel, automatic filament loading, and ground leveling make it suitable for use in schools. With a network extension that makes it easier to use Root or Mote, it's once again perfect for inference design engines and designers working at scale.
Pros:
● Very easy to use.
● Reliable
Cons:
● Smart features require patented filament.
Raise 3D E2
Last but not least! Raise 3D printers are fully equipped with a cool user interface that makes the printing process amazing. Raise 3D has brought high quality FFF printing to the home, school and business. This fast dual printer keeps pace with RoboxPro and is ready to meet the design and enhancement needs of most businesses with strong company and network integration. In addition, home and educational users will benefit from the simple interface and near-perfect reliability. The only negative of this machine is the length and weight.
Pros:
● Qualitative result.
● Touch screen interface.
Cons:
● Massive and heavy