A laptop bag or backpack is under constant stress: on the way to work, traveling, on public transport or in a crowd, among luggage in a car or at daily business meetings.
The purchase of a special product for wearing ensures that the property will be safe. Manufacturers recommend considering five key factors when choosing a new brand of laptop bags: electronics protection, storage space, convenient compartment organization, comfort and style.
List of laptop bags and backpacks
With all the factors taken into account and the opinions of experienced designers, a list of worthy options is published to find the very best computer bags and laptop backpacks on the market.
1 Nomatic Travel Pack
This is what the best laptop bags for travel enthusiasts look like. Designed to carry your essentials, the pouch expands from 20 to 30 liters and is loaded with additional features including concealed convertible straps, magnetic side pockets, cable-through slots, waterproof trim, and more.
When you go on a trip and pack your backpack "to the fullest", its lack of a rigid frame manifests itself as clearly as possible: the backpack becomes like an inflated "pillow": often shapeless and uncomfortable. Plus Nomatic Travel Pack is just in a rigid frame, which does not allow it to swell in the wrong places.
Another plus associated with a rigid frame is the presence of a dense rigid back. If the back of the backpack is simply made of soft material, even if it is thick, but is not rigid at the same time, then the higher the weight of the filled backpack, the more clearly this weight is felt by the back. With a hard back, the weight doesn't feel as much. With the Nomatic Travel Pack, the back does not get tired, despite the fact that the backpack itself is a kilogram heavier than other models with a soft back.
2. Asus ROG Nomad V2 backpack
If you're looking for top-end gaming laptop backpacks and need to take all your stuff with you, the Asus ROG Nomad is your best bet. With a laptop compartment specially designed for the Asus ROG G750 series gaming laptops, you can carry any 17" laptop along with your keyboard, mouse, peripherals, power bank, extra controllers, snacks, drinks, tablet, clothing and jacket.
Perhaps this is an exaggeration, but a small one. It looks great, with the same detail and aesthetic as the Asus ROG G750 series. With plenty of organizer pockets and roominess, the Asus ROG Nomad looks more like a travel option than a work bag, but here you like it better.
3. SwissGear Travel Gear 1900 Scansmart TSA
Made from high quality, durable and weather-resistant 1200D polyester, SwissGear's Scansmart offers technology to protect laptops up to 17" while traveling and on the go. Lightweight open compartments are designed for easy scanning of an open laptop at the airport.
The main laptop compartment is separated from an additional pocket for an iPad or tablet. Both models are fully insulated and covered with soft non-scratch material to avoid damage during transport.
An additional large front zippered pocket is ideal for keeping pens, notebooks, wallet and keys safe and close at hand. Contoured shoulder straps are easy to adjust, while a mesh panel with Airflow ventilation helps keep sweat out.
Some say SwissGear is the best laptop bag company for moving laptops from point A to point B. It's a great option for frequent flyers who want to keep their tech safe wherever they go.
4. Filson
The Filson padded computer bag is proof that classic "originality" can go a long way when paired with subtle leather trim. Strong packaging made of durable material (twill), which is pleasing to the eye, is able to protect the contents from the weather. And for those who take "everything of their own" with them, the manufacturer offers a massive interior compartment with dividers for a laptop and other things.
Leather inserts and an adjustable shoulder strap, zipper and flap complete the design of the bag. It is not in the low price category, but you can find this bag for much less if you choose the right color.
5. Timbuk2 Authority
The Timbuk2 can fit a laptop up to 17" in the padded compartment. It comes with a host of special features including a back laptop pocket, waterproof bottom, detachable shoulder strap, ventilated Airmesh back panel and more for ultimate comfort and convenience anywhere you go.
6. The North Face Isabella
The North Face makes good bags for laptops and sports gear. Perhaps women should not choose a backpack just because it is feminine. But it is worth thinking about it if many backpacks are too long for the torso. Isabella straps are perfect for women's shoulders. It is surprisingly light, has a fleece-lined laptop pocket, and the interior fabric is much lighter in color.
Like the company's popular Pivoter, Isabella is also divided into two compartments, which is very convenient when you need to go to the grocery store and on the way home you need to grab groceries from the store, putting them away from the laptop. However, at a claimed 17 liters, it is very small, only holding a 15-inch laptop. In addition, the handy front mesh pocket is not waterproof.
7. Noreve urban backpack
Impressions can be described in two words: business chic. If you're looking for cool laptop bags with a business-like presence, check out Noreve's Urban Backpack. This is real flawless genuine leather. The elegant business backpack has a large main compartment that can accommodate a 15" laptop. At the back, there is a compartment with an elastic Velcro strap, a couple of pockets for smartphones and several small holders for pens or styluses.
On the other side there is a zipper compartment. At the back you will find two side pockets with invisible magnetic closures and a classic front pocket with a double zip. Adjustable shoulder straps and a durable leather handle complete this incredibly elegant backpack. You can choose from beige, brown or our favorite black. The only drawback here is that the Noreve Urban Backpack (sold on the official website) is very expensive.
8. Solo Duane
Hybrid briefcase that converts to a backpack and back: can look like a simple backpack, but hidden expandable straps can instantly turn it into a briefcase. This unique feature makes the Solo Duane ideal for business travelers and frequent business travelers.
The dedicated laptop compartment holds the most popular devices up to 15,6 inches, including MacBooks, laptops and Chromebooks. There's also a dedicated pocket to securely store your iPad, tablet, or e-reader while in transit.
There are plenty of additional storage compartments, including a large external pocket that makes it easy to store charging cables and two quick-access front pockets for phones, keys, wallets and credit cards.
Complete with a 5-year manufacturer's warranty, this backpack is great for professionals who want to impress, students who are serious about academic work, or anyone who needs an affordable laptop bag they can rely on.
9 Targus CityLite
The Citylite is an ergonomic and affordable briefcase with a 15,6" laptop compartment, dedicated pockets for business cards, pens and other accessories. There is a shoulder strap and a strap for attaching to a suitcase when traveling. Those who are still dealing with the world of paper documents will also like the middle part, which opens up to accommodate folders, ideal for storing documents and retrieving them at a moment's notice.
10. Dagne Dover Ryan laptop bag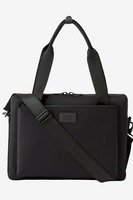 The stylish Dagne Dover's Ryan bag is a tote designed with tech portability in mind. It has a dedicated slot for a smartphone, as well as a case for a compact 13-inch laptop. It also has an extended handle for easy carrying. Pockets include interior and exterior zip compartments, air mesh pockets for easy access, and a detachable key lanyard.
What else should you pay attention to
To understand which good laptop bags are worth taking a closer look at, you need to take into account the requirements for additional accessories. It's worth considering the presence of compartments and pockets, which gives you more space to store a mouse, a pair of headphones, an external USB hard drive and a number of other things.
Security features like padlocks or hidden zippers can be a great idea, and easy-access compartments can be handy when you need to go through pre-flight security or border control.