Smartphones have effectively replaced cameras, and many of them are superior. These laptops have become our main cameras, so photo quality is a priority when choosing a new smartphone. The proposed list will help you choose the best phone for yourself and the description will help you do this.
All the best iPhones and Androids with a good camera have amazing specs, but there are different factors that put them on this list. Some of them are better in some ways, but not in others. Today we are here to find out what best suits your needs.
It used to be easier with smartphone cameras: they had one camera for selfies and a second one for shooting videos and photos, located on the opposite side. Since the beginning of 2020, most flagships and more modest models have switched to using triple cameras or even quad cameras. Their purpose may be different depending on the manufacturer of the model, but they are all designed to improve the quality of shooting so much that it surpasses the results of professional photographic equipment.
The number of cameras does not mean that the photos will be of high quality by default. A $150 NoName smartphone won't shoot like an iPhone just because it also has 3 cameras.
The sheer number of megapixels does not bring "happiness": the resolution of the cameras is too high for this to play a role. What to pay attention to?
The following characteristics must be taken into account:
smartphone software;
pixel density;
diaphragm;
matrix diagonal, focal length;
camera model;
optical stabilization and optical zoom.
All modern smartphones also use neural networks that work to automatically improve the frame.
Google Pixel 5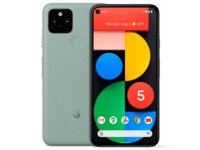 The Pixel line is known for its best specs, including the latest processors and all the features you could ever need. The Google Pixel 5 makes the phone more affordable without taking it to new technological heights. The good news is that Google isn't stingy with the quality cameras that the Pixel line is famous for.
It's still a fairly simple design compared to other flagships, with a dual camera on the back. 12,2MP main camera and 16MP ultra-wide camera. There's a noticeable change here, as the Pixel 4 series used to have a telephoto lens instead of an ultra-wide angle, which allows for much better landscape shots. Video has been enhanced with support for smoother 4K 60fps capture, while Portrait Lighting features give you more control when editing.
In terms of other components, the search giant has opted for the Snapdragon 765G, which still performs very well. 8GB of RAM, an amazing dual camera setup, a large OLED display and a good 4080mAh battery.
Where the Pixel 5 loses out to more expensive competitors is zoom. The zoom here is all-digital, and while the results are good, they pale in comparison to true zoom models like the Note 20 Ultra or P40 Pro.
Offering the device at a lower price than cutting-edge smartphones means that more people looking to buy affordable smartphones with a good camera will enjoy this excellent model.
Samsung Galaxy Note 20 series
The Samsung Galaxy Note line has always been known for great performance, stunning designs that appeal to people who love phones with good cameras and sound. Unsurprisingly, the latest Samsung Galaxy Note 20 and Note 20 Ultra models are also some of the best models the industry has to offer.
If money doesn't matter, the Galaxy Note 20 Ultra is the obvious choice for gamers. It features a huge 6,9-inch AMOLED display with a 120Hz refresh rate and 12GB of RAM. The cameras on this model are also the best, with a triple camera setup led by a 108MP wide-angle sensor. This phone also has a 12MP periscope zoom camera and another 12MP ultra wide-angle shooter.
Meanwhile, the regular Samsung Galaxy Note 20 has 12-megapixel and ultra-wide cameras, with a 64-megapixel sensor providing zoom capabilities. Of course, the difference here is that the regular Note 20 uses hybrid zoom rather than optical zoom. However, these are great options.
Cons are visible in night mode: in low light, sometimes there is not enough focus. Overall, in terms of aiming, the camera is inferior to the iPhone 11 Pro or P40 Pro Plus.

The Note series is the best of the bunch if you love using a stylus on your mobile phone screen to draw. With a Wacom digitizer and 4096 levels of pressure sensitivity, you can fire up an application like Autodesk Sketchbook Pro and create layered files on the go, then import them into Photoshop to work with when you're back in the studio.
Oppo Find X2 Pro
Until recently, Oppo was relatively unknown, but is gradually gaining popularity. Last year, this brand ran a lot of ads, and now it has released the Find X2 Pro, its best smartphone whose good camera is amazing.
Looking for budget smartphones with a good camera, the X2 Pro introduces a new 48-megapixel Sony sensor. The periscope zoom camera gives you approximately 5x optical zoom, but you can also use 10x hybrid zoom and 60x digital zoom. High-resolution photos have depth and surprise with a lot of detail. Images shot with the Find X2 Pro look natural and lifelike (not counting shots taken with Samsung phones). Equipped with a 5x telephoto lens, and its ultra-wide-angle camera delivers 48MP sharpness for GoPro-style shots you can crop.
The X2 Pro impresses with flagship power, decent battery life, and a stunning screen both inside and out. Delivers the fastest charge on the market, from 0 to 100% in 40 minutes, over half a terabyte of storage - that's 3 times what Samsung offers on the S20 Ultra.
Sony Xperia 1II
Sony has become one of the best camera manufacturers. The company's mirrorless cameras are second to none, and the idea behind the Sony Xperia 1 II was to bring that level of performance to the world of smartphones. Unfortunately, Sony failed to create a device that could really compete with the best camera phones in terms of pure image quality, but they did do some amazing things in certain areas.
Sony's mirrorless cameras are known for their ultra-fast burst modes and superb autofocus, which was inherited from the Sony Xperia 1 II. This phone can shoot at 20 frames per second. Autofocus is also insanely fast, doing up to 60 calculations per second! There is even such a function as eye autofocus.
Three lenses adorn the back, making the perfect combination of shooting possibilities. They cover all zoom ranges. Sony opted for 16-24mm, 24-70mm and 70-200mm lenses. Of course, these are not optical zoom lenses, but hybrid zoom works wonders these days.
Other phones may produce better photos, but for photography it's important to capture the moment at the right time in the right place, which the Sony Xperia 1 II does best.
iPhone 12 Pro Max
The best smartphone with a camera for most cases. It has a 12MP main camera, a 12MP telephoto lens (along with 2,5x optical zoom), a 12MP ultra-wide camera, and a secondary LiDAR scanner for great night mode portraits.
Nighttime and low-light shots are where the iPhone 12 Pro Max clearly excels. Night mode itself can be used with both the main and ultra-wide sensors, which is another handy bonus for low-light photographers. Apple has introduced a new feature, HDR3, which combines multiple exposures to create the best shot that can be used in any lighting condition.
The advantage is a bunch of excellent photo editing functions and shooting video in Dolby Vision format. Like it or not, there's no denying that Apple makes some of the best camera phones available, and these include the iPhone 12, iPhone 12 Mini, iPhone 12 Pro, and iPhone 12 Pro Max.
The iPhone 12 Pro Max is the biggest and coolest of them all, but it's also the most expensive. He has a better camera, but the difference is not so noticeable. The iPhone 12 and iPhone 12 Mini do not have a telephoto lens, but the standard and wide-angle cameras remain, they are more portable.
iPhone SE
Premium budget phones have created a buzz in 2020, and the iPhone SE is one of the best purchases you can get for a more affordable price. It's strange to hear about Apple products, but it offers excellent value for money, representing a budget phone with a good iPhone SE camera.
It has the familiar glass and metal design found on the iPhone 8 and a very competitive camera. Users will also love that Apple hasn't skimped on the processor, as the iPhone SE uses the same Apple A13 Bionic processor as the iPhone 11 phones. Other benefits include wireless charging.
Cons: The phone has a small 4,7-inch display with a low resolution. It also has large bezels that make it dated, and it lacks a night mode, so low-light photos don't come out very well.
Summary table of reviewed phones to understand which phone camera is best for taking photos.
| | Google Pixel 5 | Samsung Galaxy Note 20 | Oppo Find X2 Pro | Sony Xperia 1II | iPhone 12 Pro Max | Apple iPhone SE |
| --- | --- | --- | --- | --- | --- | --- |
| The software part | Qualcomm Snapdragon 765G | SoC Exynos 990 | Qualcomm Snapdragon 865 | Qualcom Snapdragon 865 | Apple A14 Bionic | Apple A13 Bionic |
| pixel density | 430 ppi | 496 ppi | 513 ppi | 643 ppi | 458 ppi | 326 ppi |
| Diaphragm | f/1.7, f/2.2, f/2.0 | f/1.8, f/3.0, f/2.2 | f/1.7, f/2.4, f/2.2 | f/1.7, f/2.4, f/2.2 | f/1.6, f/2.4, f/2.2 | f / 2.2 |
| Matrix Diagonal | 6.0" | 6.9" | 6.7" | 6.5" | 6.7" | 4.7" |
| Camera model | Sony IMX363 | Samsung | Sony IMX586 | Sony/Samsung | Lidar | iSight |
| Stabilization/Zoom | optical/digital x2 | optical / optical x5, hybrid x10 | optical/hybrid x5 | optical/optical x3 | optical / optical x5 | optical/digital x5 |
What is the future of the smartphone industry? Do not forget about augmented reality (AR) technologies, without which, it seems, selfies and portraits for social networks will not do. And one more thing: it seems that artificial intelligence technologies will draw and change the image "on the go", at the time of shooting, making hybrids of reality and the virtual world. Probably, photographs without such processing will remain only for the needs of forensics. If such assumptions seem strange, it is enough to compare the developments of five years ago with modern technological "monsters".