Household chores like ironing, washing and vacuuming are never much fun, we think you'll agree. In fact, most people hate them, and the few who like them are probably getting paid to do so.
These smart little bots are made to make house cleaning easier. They cannot replace a traditional vacuum cleaner in terms of cleaning power, but regular scheduled cleaning with these robots often results in satisfactory cleaning and keeps your home much more presentable.
We use the very best robotic vacuum cleaners we've seen, all to help you make your buying decision.
Roborock S5 Robot Vacuum Cleaner
The Roborock S5 Robot Vacuum Cleaner is a real hidden gem. Roborock might be a brand you've never heard of, but don't let that scare you. The company is backed by Chinese tech giant Xiaomi, which speaks volumes. But the product itself speaks for itself.
We were incredibly surprised at how smart and functional this robot vacuum cleaner is. It's an affordable, capable, and smart robot vacuum that works just as well as bots that cost twice as much, and does it in more style.
Under the shiny white finish hides a lot of tricks. This robot is equipped with an intelligent mapping system that tracks the layout of the house every time it leaves the house. This smartphone app is controlled, has multiple cleaning settings, and is supported by numerous sensors, which we found made it one of the least prone to getting stuck unexpectedly during use.
If that's not enough to grab your attention, this bot also includes a hard floor wet mopping system and numerous clever design features that make it surprisingly attractive. Simple things like a brush guard that prevents clogging, a cleaning tool that includes a hair clipper blade, and a flexible remote control system built right into the app make it surprisingly powerful.
Another simple highlight is the washable filters with spare parts included. There is no need to buy and replace filters as regularly as with other robotic vacuum cleaners that have filters that cannot be washed or cleaned. Really great option for a low price.
Roborock S6 Robot Vacuum Cleaner
The Roborock S6 robot vacuum replaces the S5, and while it costs a bit more, it's a huge improvement over its predecessor, with clear indications that nearly every aspect of the design has been carefully considered during the build process.
This bot is more than capable of delivering impressive cleaning results throughout the entire home. Its smart mapping system is one of the best we've ever seen and is very easy to use and set up. The result is a bot that works for you with very little hassle and lots of customization options.
All in all, the Roborock S6 is one of our favorite robot vacuums. We wholeheartedly recommend this robot vacuum cleaner to anyone who wants to add automatic cleaning to their home, and it's also a lot less money than you'll have to pay some well-known brand competitors.
Ecovacs Deebot 710 Robot Vacuum Cleaner
The Ecovacs Deebot 710 is a great vacuum with a large dustbin, and its smart navigation systems make it efficient enough to cover a large area every time you turn it on.
His faults lie not so much in what he does, but in what he does not do. The average price does not include interactive mapping or the creation of restricted areas. It's great on the move, but its ability to learn and remember your layout is limited, and it also lacks the floor cleaning skills of the Roborock S5 and S6.
The only significant drawback is battery life and charging time. They are somewhat mitigated by the excellent intelligent navigation system, but they could be better. The Ecovacs Deebot 710 has Google Assistant and Alexa compatibility and offers great cleaning and great coverage at a great price.
The best robot vacuum cleaner in terms of power
iRobot Roomba i7+
The iRobot Roomba i7+ is a great robot vacuum cleaner. The Imprint Smart Mapping system is great, letting you schedule cleanings for specific rooms, while the automatic dirt removal feature is great - well, when it works properly.
In fact, the only thing that let the i7+ down is its very expensive price tag and the size of the auto dirt removal base, which requires quite a lot of space to work properly, as well as its proximity to the fork, which makes placement options quite limited in many cases. Houses.
Overall, however, if you can swallow that hefty price tag, the Roomba i7+ offers superb cleaning capabilities, virtually hassle-free use and setup, and some great features like dirt removal and smart mapping that make it the perfect addition to the home.
Neato Robotics Botvac D7
We had some setup issues, but there's no denying that the Neato Robotics Botvac D7 Connected is a class act and once set up, the app is very easy to use, whether it's setting a regular cleaning time or just telling the cleaner to start.
The virtual no-go lines work well and the D7 is suitable for all floor types. In addition, it is very flat, so it can fit under most furniture. The D7 doesn't have the screen of the older, cheaper Neato Connected model, but it's easy to run without an app, and you'll get a cleaning card after it's completed through the app.
There's also an eco mode on board, and the D7 allows you to display multiple floors with the option to purchase additional charging base stations. The smart mapping system not only includes the ability to add no-go lines to each floor, but also supports a "Quick Boost" charging mode that helps the robot dock for extra juice while cleaning.
Dyson 360 Heurist
The Dyson 360 Heurist is a Dyson device through and through. It immediately catches the eye with its large bold blue design, powerful suction and impressive intelligence.
This robot's cameras and sensors allow it to easily move around the house while cleaning, and it's supported by a powerful and detailed app that includes many features.
The Dyson 360 Heurist is taller than other bots due to the inclusion of Dyson Radial Root Cyclone technology. This means that it cannot easily slip under furniture, but it has impressive suction abilities.
Regardless, this is still one of the best robotic vacuum cleaners we've seen. However, it is quite expensive - as you would expect from a Dyson product.
The best value for money robot vacuum cleaner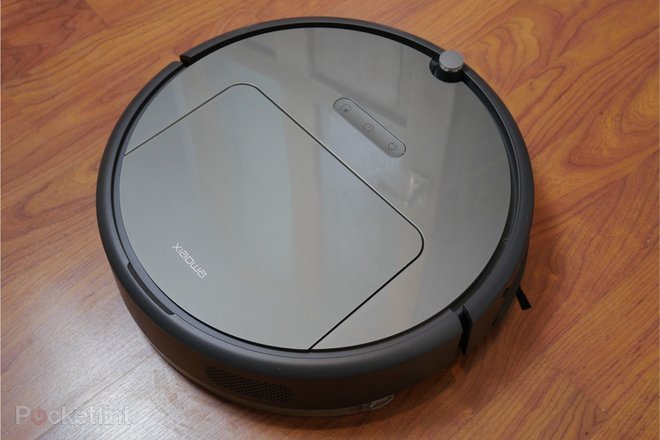 Roborock E2 Xiaowa
The Roborock Xiaowa E25 is a surprisingly slick little vacuum cleaner with lots of brilliant features and capabilities for the price. It's not as feature-packed as the excellent Roborock S5, but as a budget cleaner it's surprisingly good.
This affordable robot vacuum cleaner offers automatic cleaning in standard and spot modes, as well as an easy-to-use floor mop system for mopping. We really liked the large dust container, washable filters and the accompanying cleaning tool for this bot.
We were also impressed with the sensors and tracking system, which ensured that the bot managed to get back to the charger with ease - even when it was hidden in a narrow corner of the room. At this price it's worth the purchase.
Best Robot Vacuum Cleaner for Offices and Small Businesses
Makita DRC200Z Robot Vacuum Cleaner
As you work on this robot vacuum cleaner made by a power tool company, you'll get an idea of ​​just how powerful and efficient it can be. It is large, heavy and reliable in the right conditions.
This Makita robot vacuum cleaner boasts a 2,5 liter dustbin, two 18V 4000mAh Li-ion batteries and a cleaning time of around three hours. It's not as smart as other robot vacuums we've seen, but if you have to deal with large open spaces, then this is the perfect tool for the job.
We found the Makita DRC200Z to not handle thick carpet, but it performs incredibly well on hard floors, tile, and thinner hard-wearing carpets, making it ideal for use in an office, warehouse, or workplace.