PowerColor presents the pinnacle of its lineup. The PowerColor RX 6900 XT Red Devil video card received an exclusive limited edition version. Let's talk about its features and benefits - compx.com.ua/ru/videokarti-radeon-rx-6900-xt/.
A little about the technique
The basis of the video card was the flagship AMD Navi 21 XTX GPU, consisting of 5120 streaming cores. Dual BIOS allows you to select a silent mode that fully complies with the developer's specifications. In it, the base clock frequency of the chip is 2015 MHz, and the overclocking frequency is 2105 MHz. An extreme mode switch is installed on the board, which increases these values ​​to 2250 and 2304 MHz, respectively - by an average of 4,5%. The price of the extra power is the noise of the fans operating at maximum speed.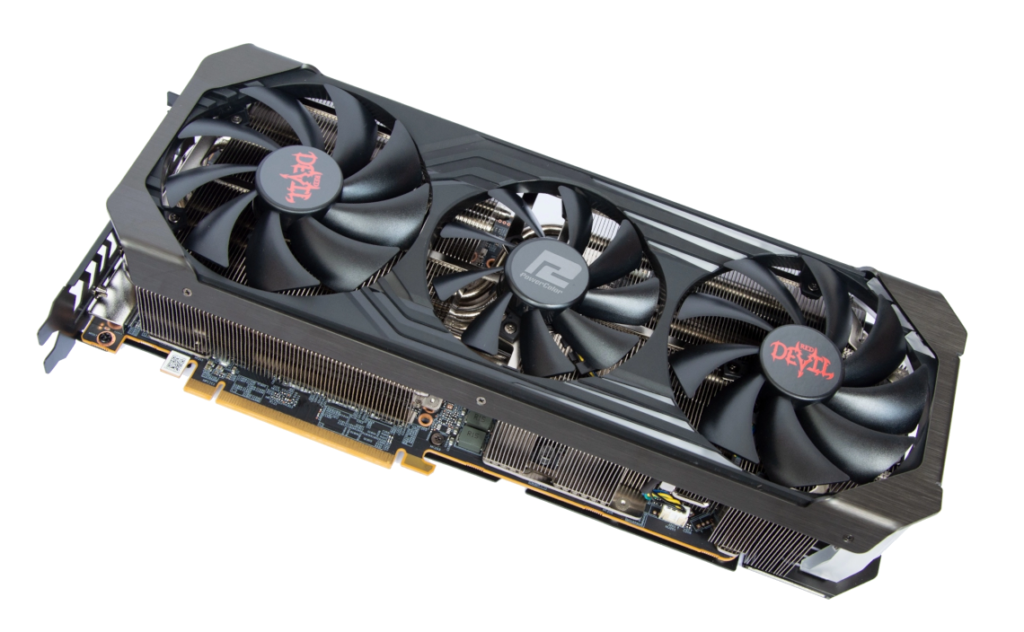 The video card received 16 GB of GDDR6 RAM, operating at a frequency of 16 GHz. Together with a 256-bit bus, this gives a bandwidth of up to 512 GB. These figures are still less than those of Nvidia, but they are quite enough, given the efficient architecture of AMD. But the graphics adapter consumes less electricity compared to competitors - 300 watts. Although PowerColor recommends connecting its exclusive model to a power supply with a capacity of 900 W or more.
The limited edition Red Devil repeats the main characteristics of the "regular" RX 6900 XT. The video card occupies three slots and is equipped with three fans rotating in opposite directions. It receives power from three 8-pin connectors with a voltage of 12 V. Its dimensions are 320x135x62 mm. The difference from the standard version is an additional USB Type-C port that works in Thunderbolt III mode and supports image output to two screens simultaneously.
Benefits of exclusive graphics card
In its press release, PowerColor points out the following advantages of the RX 6900 XT Red Devil Limited Edition graphics adapter:
Dual BIOS that allows you to instantly switch between quiet and extreme mode of operation of the cooling system. When the chip temperature is less than 60°, the fans stop completely, significantly reducing the noise level.
A set of exclusive keycaps for the Red Devil style keyboard, designed by renowned designer ZOMOPLUS. Accessories are made of durable and pleasant to the touch premium material.
Reinforced printed circuit board that can withstand heavy physical and electrical loads. Power system with 14+2 phases for efficient and safe overclocking. Polymer capacitors designed for loads up to 480 W - 60% power reserve.
Larger heatsink with seven heatpipes that increases heat dissipation by 30% compared to the standard model.
Where to buy a powerful AMD graphics card?
The compx.com.ua online store offers hardware from well-known manufacturers, including PowerColor. Its staff will help with the choice of components, as well as offer overclocking services to get the most out of the chosen configuration.