A video editor is a program that provides access to a set of tools for non-linear editing of video and audio files. Creation of titles, implementation of color correction, mixing, production of special effects - the functionality of such software is truly extensive. People have to deal with the corresponding software on a regular basis. It allows you to structure home video archives, shoot videos for your own YouTube channel, and handle a variety of professional work tasks.
Part 1. Why you should opt for a desktop video editor instead of web apps
All modern free video editors have similar functionality and are divided into two large categories. Programs with which you can cut and glue fragments of videographic and sound files are portable and desktop. The former are launched through an ordinary browser and work in web mode, while the latter are designed for full-length download and installation on a PC.
People who interact with such software on an ongoing basis prefer to use desktop versions of the software. The fact is that web applications come with a lot of obvious disadvantages:
a small range of editing functions (as a rule, only basic tools are available);
limitation in performance due to the inability to use the power and other resources of a computer or smartphone;
poor choice of effects, limiting the field of view of the specialist responsible for direct editing;
low quality of exported objects, long rendering process, long downloads, etc.
The only advantage of the video editor that opens in the browser as a web application is its compactness and portability. To run it, you do not need to wait for the download and installation of third-party programs to finish. There are simply no other advantages for web versions.
Part 2. Incredible Features of Wondershare Filmora Video Editor
Wondershare filmora - Is video editing software, offering the user to get acquainted with an impressive set of professional tools.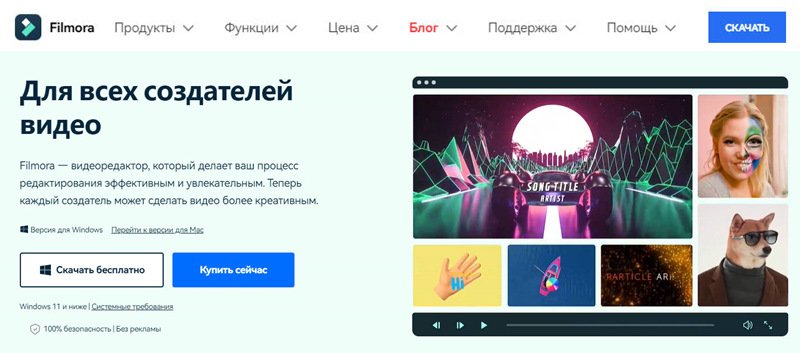 It can be applied in four main areas:
Direct editing of various videographic files. Preset templates, auto beat sync, playback speed change, screen split, keyframe adjustment, motion tracking and auto framing.
Audio track processing. Automatic synchronization of audio and video, muting extraneous noise, detection and removal of quiet or completely silent fragments.
Create unique effects. Creative transitions, filters, titles and exclusive motion elements. Working with classic green screen, masking, electronic rear projection, people detection in portrait shots, lighting and cinematic stylization.
Color correction. Apply optimal settings to all clips and frames at the same time, edit exposure, temperature, saturation and other incredibly important parameters.
Wondershare Filmora branded software gives you access to the Filmstok video effects store with thousands of paid and free solutions for producing high-quality content.
Part 3. Create high-quality video content with Filmora editor
Main advantage video editor without watermark Filmora is, of course, simplicity. Everyone will be able to understand the features of the program - from people who want to structure their home video archive to specialists working in the field of professional video editing. Even the most voluminous videos are cut, edited and filled with effects following the steps of elementary instructions:
Download and install Wondershare video editor using official site wondershare company.
Run the software and click on the "Create a new project" button. At this stage, you can use the preset import settings.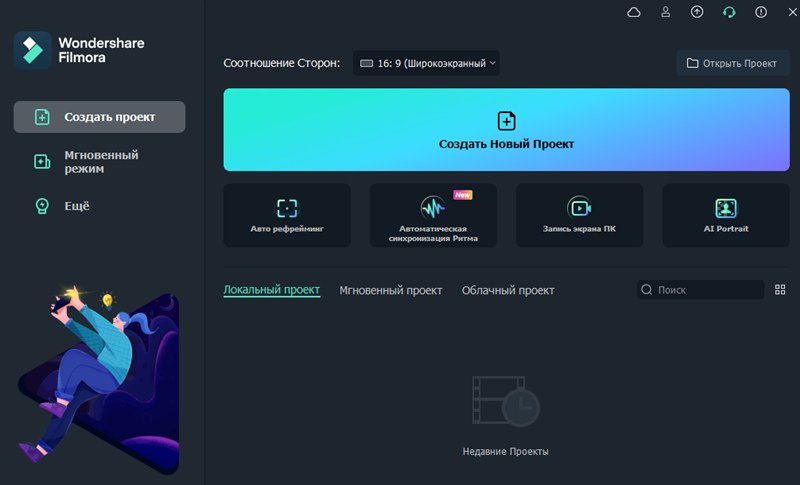 We import a video with which we will work later. We make sure that the video is loaded into the system.
We cut a single video into a series of clips using the appropriate tool (the icon in the form of large scissors in the middle navigation menu).
Add titles by clicking on the tab of the same name on the top navigation bar.
We select the category "Transitions" and get acquainted with their assortment using the What's New or Recommended sections.
Add some effects. You should not overdo it with them - the video should turn out to be concise, without unnecessary variegation.
We integrate additional videographic elements using the tab of the same name on the top navigation menu bar.
As soon as the main installation comes to an end, you need to go to the stage of saving the results. Click on the "Export" button, configure the settings and click on the "OK" button.
The final video can be saved in different formats - from MP4 and WMV to AVI and 3GP.
To summarize
Today, the process of editing video materials, from expert and professional activities, has moved into the category of everyday work. Such a transformation was realized, among other things, thanks to programs that allow editing without additional training. Wondershare Filmora profile software looks (and is!) so simple that everyone can use its tools.