Surely many of you know the basic rules of poker and understand that a royal flush confidently beats two pair at showdown. This information is enough to spend an evening in the kitchen playing cards with friends.
However, for a serious game for money, it is better to dive deeper into the world of poker. In this article we will figure out how to build the process correctly. You will find out if there is a universal poker tutorial, how to master the basic concepts and why many beginners today choose video tutorials.
Abundance of textbooks
Are poker books a source of knowledge?
The first thing that comes to mind for a person who decides to find poker tutorial - literature. But it is important to be careful in this matter. Books that were published in the early XNUMXs or in the last century are not suitable. The rules of the game have not changed since then, but the approaches and strategies have changed very much. If you use the tactics described in the textbooks of Brunson, Harrington or Sklansky, the path to losing your bankroll is guaranteed.
If you have an irresistible craving for literature, start studying books on psychology. Here, the methodology and approach to correcting faces have remained virtually unchanged, so the information will still be relevant today.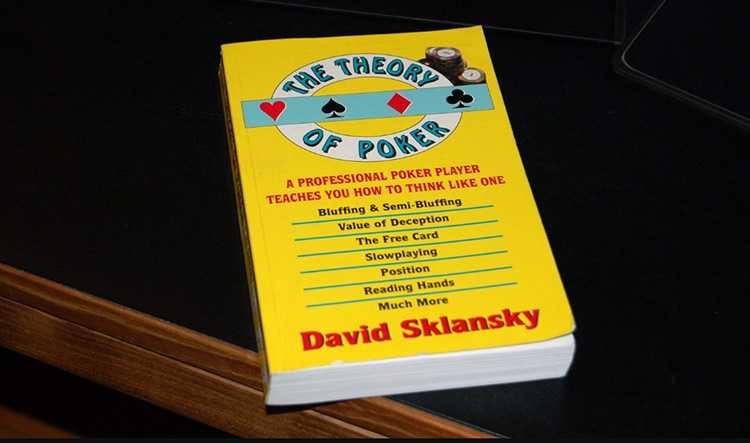 Cover of David Sklansky's book "The Theory of Poker"
VODs vs streams - what to choose?
For modern players, it is more useful to watch video content, which is produced in huge quantities today. Two formats are popular:
WATER. This is a relatively short video that goes into detail about a specific aspect of the game. From basic stuff like 3bet pot strategy to advanced math and advanced concepts. Many poker schools and individual coaches regularly produce such videos to demonstrate their own knowledge and the ability to apply it in practice.
Stream. Poker players' streams cannot definitely be called educational content, since they are also entertaining in nature. This is a live broadcast of the game, which often lasts 8-10 hours. You understand that it is impossible to tell something useful for such a long time. It is interesting to see how popular professionals make decisions in difficult situations, as well as at final tables. Watching the streams is free, and broadcasts are available both on YouTube and Twitch.
Streams on Twitch TV
Courses and "boxed" products
There is also a category of players and coaches who do not want or do not like to work one-on-one with students. Especially for such purposes, they created a "boxed" product, in other words, a recorded course. It can be called poker tutorial — you will receive some basic knowledge. However, you shouldn't expect to reach a professional level for several reasons:
You cannot ask a question and clarify unclear information.
The material in the recording quickly becomes outdated and is rarely updated.
Therefore, from a beginner's point of view, we recommend training directly with a trainer or in group classes. With this approach, you will master not only basic strategies much faster, but also advanced ones.
It is important to understand that not every school offers truly high-quality content. For most, it's just business, no matter how sad such a statement may sound. Therefore, we recommend that you carefully approach your choice, study reviews, look at the biographies of trainers and the results of students.
There is a very small chance that an unknown person from the community will teach you all the intricacies of poker. There are chances of this, but they tend to zero, to be honest. Therefore, it is better to use the largest portal in RuNet - GipsyTeam - as a search platform. Here the reviews about coaches and schools are definitely not fake!